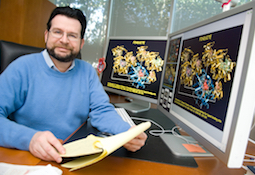 Georgia Tech is a premier hub for those seeking new ventures or entrepreneurial opportunities. Its rich culture provides the best of technology, capital, and knowledge needed for first-class startups. We are also proud of our reputation for generating economic activity in Atlanta and across the globe.
The Office of Industry Engagement works closely with various entrepreneurial programs in Creating the Next in university startups.
Georgia Tech startups received over $47 million in funding during fiscal year 2017. Below is information about four startups launched in fiscal year 2017 as well as updates about three previously established startups that achieved significant accomplishmetns this year.
PanXome: Accelerating and De-Risking the Drug Pipeline for Pharma
PanXome is a bioinformatics and computation-focused company that creates algorithms for modeling proteins, based on research from Dr. Jeffrey Skolnick's Center for the Study of Systems Biology. These algorithms allow for a deeper understanding of the relationship between diseases and drugs, helping to treat patients more effectively.
MoQuality: Artificial Intelligence–Based Testing of New Apps
MoQuality offers artificial intelligence–based software testing for mobile app developers, quality assurance professionals, and service providers. Formed around intellectual property developed by Computer Science professor Dr. Shauvik Roy Choudhary, MoQuality robots can test apps efficiently at a fraction of the cost of manual testing. This allows developers to address any issues and get to market quickly.
FraudScope: Finding Fraud Before Cutting the Check
Based on research and technology developed by Computer Science professors Dr. Musheer Ahmed and Dr. Mustaque Ahamad, FraudScope uses adaptive intelligence to automatically identify fraudulent health care claims before payments are made. This technology is being used to mitigate the costs and associated losses due to fraud in the health care industry.
Sanguina: Faster, Better, Cheaper Anemia Screening
Anemia is a major health concern, affecting nearly 30% of the world's population. Sanguina was formed around technology developed by Dr. Wilbur Lam, a physician in Georgia Tech's Department of Biomedical Engineering. The startup was established to develop and market AnemoCheck, a screening device used to test for anemia. This rapid, accurate, and inexpensive device can be disposed of easily after its use.
Carbice Corp.: Innovative Materials for Smaller, More Powerful Electronics
Founded by NanoEngineered Systems and Transport professor Dr. Baratunde A. Cola, Carbice Corporation is a rapidly growing startup in Midtown Atlanta. The company focuses on developing innovative thermal materials for optimal performance in electronic devices. Carbice products enable smaller, more powerful electronic devices that are easier to assemble. They are expected to unlock mass adoption of affordable computing, sensing, and connectivity in homes and industry. Carbice raised $1.5 million in seed funding in July 2017 in a round co-led by Tech Square Labs and the GRA Venture Fund.
Innovolt: Intelligent Electronics Protection
Innovolt, a Georgia Tech startup launched in 2007 by Dr. Deepakraj Malhar Divan of the College of Engineering, developed technology that guards against damage from 99.5% of power interruptions and extends the life and reliability of electronic devices. The company is targeting a large problem, as businesses in the United States annually suffer about $24 billion in costs associated with power fluctuations. With offices in Atlanta and South Africa, Innovolt's near-term growth strategy involves expanding market share in the office equipment, automated teller machine (ATM), and vending machine markets. The company then plans to expand into health care, industrial automation, and other markets. In March 2017, Innovolt sparked a nearly $4 million investment—capital that the firm says will deliver it to profitability. Overall, Innovolt has raised around $35 million.
StarMobile: Comprehensive Enterprise Mobility
Founded by Dr. Raghupathy Sivakumar of the School of Electrical and Computer Engineering, StarMobile is a leader in codeless, cloud-based solutions for delivering enterprise mobility to customers that are faster, simpler, and cheaper. In October 2016, StarMobile signed a deal to be acquired by PopWow Mobile, a move that is expected to provide a competitive advantage for helping meet the explosive demand for a mobile-enabled workforce. The acquisition added intellectual property created at Georgia Tech to the company's existing portfolio, providing a more comprehensive enterprise mobility platform for its customers.