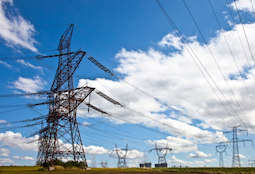 Helping South Africa Keep the Lights on and Modernize, Despite Daily Power Outages
Electrical surges and spikes can wreak havoc on home office electronics, as well as businesses and their electronic equipment. But in countries that struggle with daily brownouts and other extreme electrical disturbances, solving these problems often requires much more than a simple surge protector or universal power supply unit.
An intelligent electronics power protection and management technology developed at Georgia Tech is making a significant difference, especially in emerging countries. Atlanta-based Innovolt developed the technology in 2009, and introduced it in South Africa in 2012.
"The South African market, specifically, has a tremendous need for improved power supply — which will not happen in the short term," says Jeff Spence, Innovolt's president.
In the meantime, Innovolt has developed products that will decrease service-related calls and allow electronics to last longer. A significant step beyond surge protections, Innovolt's technology guards against nearly 100 percent of surges, spikes, sags, outages, over voltages, and brownouts, which can significantly increase the lifespan of electronics.
Georgia Tech researcher Dr. Deepak Divan developed the technology. The company was recently ranked No. 31 on Inc. magazine's list of fastest growing companies, and Red Herring magazine's Top 100 Global companies.
Taming a rogue electrical grid remains a huge endeavor. However, Spence says the technology embedded in the company's products can aid the energy-challenged South Africa by helping it modernize.
Consider, for example, that many manufacturers often won't even sell advanced electronics products to South African businesses, simply because with constant outages, the power grid can't adequately support them. The failure rate of equipment is so high, manufacturers can't guarantee their products. That often means that hospitals forgo getting the most advanced medical equipment, and businesses can't tap the latest computer equipment or business machines.
"Our technology gives companies the ability to access and integrate more advanced and sophisticated equipment into environments that struggle with unreliable and antiquated power grids," Spence says.
And in a country in which a downed ATM may go unrepaired for a month, Georgia Tech technology melded with Innovolt can help ensure longer life for electronics, while reducing service costs – and truly improving quality of life, Spence says.