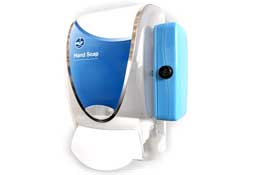 Based on patented technology licensed from Georgia Tech, the Clean Hands – Safe Hands system was named a 2020 "Best Infection Prevention Product" in the monitoring category by Newsweek and The Leapfrog Group. Designed to reduce hospital-acquired infections (HAIs), this innovative system began through a research consortium of the Centers for Disease Control and Prevention (CDC), Children's Healthcare of Atlanta, Emory University, the Georgia Institute of Technology, and the Georgia Tech Research Institute.
Knowing that the primary accepted method of direct observation is ineffectual in reducing HAIs, this Atlanta-based team of physicians and technologists worked together to develop an innovative solution to the problem. The Clean Hands – Safe Hands technology is simple. Clinicians wear badge reels that are non-intrusive to workflow, while sensors on soap and alcohol dispensers collect data. If health care providers forget to clean their hands, the Natural Language Voice Reminder™ feature helps them remember to wash up.
Today, the Clean Hands – Safe Hands system is installed in hospitals all over the country, including more than 20 percent of patient rooms in Georgia. The technology not only collects data on hand hygiene but also sustains improvement. In the 15 most recent hospital installations, the hospitals reduced HAIs by 66.5 percent on average, saving lives and saving hospitals money.
In addition, because the Clean Hands – Safe Hands sensors are constantly collecting data, hospitals can use the data in many circumstances beyond hand hygiene. For example, the system has frequently been used for exposure tracing of infections (like COVID-19), patient fall predictions, and nurse rounding analysis.
"A big part of the success we have been able to achieve has come from being able to leverage the technology and research capabilities at Georgia Tech," said Chris Hermann, MD, PhD, of Clean Hands – Safe Hands. "This has given us a huge leap forward. And working with Georgia Tech's Office of Technology Licensing has been a very positive experience."
The Newsweek–Leapfrog Group recognition is by no means the only accolades this Georgia Tech licensee has received. In March 2021, founder, CEO, and Georgia Tech alumnus Dr. Chris Hermann was named one of the "20 Most Influential Healthcare Entrepreneurs to Watch in 2021" by The Healthcare Insights. And in 2020, he was named one of the "50 Patient Safety Experts to Know" by Becker's Hospital Review.
Natural Language Voice Reminder is a trademark of Clean Hands – Safe Hands.