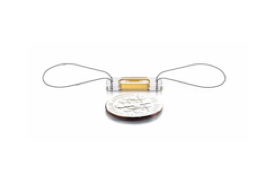 Helping Medicine Move to the Next Level
When cardiologist Jay Yadav teamed up with Georgia Tech professor Mark Allen to explore the new area of microelectromechanical systems (MEMS) in 2001, they hadn't envisioned results that would lead the way in medicine.
But after years of testing and refinement, the tiny device developed by startup CardioMEMS is the first-ever heart failure sensor to continuously monitor a patient's condition – and wirelessly route the information to doctors.
The CardioMEMS monitor, dubbed "Champion," received FDA approval for the monitor in May 2014. Just two months later, the company founded by Allen and Yadav was acquired by St. Jude Medical, Inc. for $435 million. The much-anticipated sensor will be available for congestive heart failure patients across the U.S. in 2014.
"Now that it's finally on the market, there is a lot of optimism out there that doctors will finally be able to use this to improve the lives of their patients," says Allen. The former Georgia Tech electrical and computer engineering professor also served as a co-director for the university's Center for MEMS and Microsystems Technologies.
Not only should the CardioMEMS sensor boost quality of life for these patients, it can also reduce related hospitalizations by more than a third to save the health-care system $10 billion annually, St. Jude Medical estimates.
Changing the Game
Yadav, a cardiologist with the Cleveland Clinic, approached Allen about the technology in 2001, when MEMS – the technology of very small devices – was in its infancy. He wondered if the innovations developed by Allen for the military might be able to measure pressures in the body, especially for those patients suffering from congestive heart failure.
Nearly 6 million Americans suffer from the chronic condition, in which a weakened or enlarged heart is unable to sufficiently pump blood. As pressure in the heart rises, the condition worsens. Doctors can stabilize the patient with medication, but usually the patient enters the hospital before that happens.
"Unfortunately, each time they go through this, it weakens them," Allen says. And the cycle tends to repeat itself, leading to further patient decline.
The CardioMEMS heart failure sensor is a game changer, allowing cardiologists to effectively treat patients before deteriorating conditions send them to in-patient care, he says.
Doctors implant the wireless sensor – a tiny component smaller than a dime – in the heart and blood vessels during a minimally invasive procedure using a catheter. Following the procedure, the device automatically measures pulmonary artery pressure and wirelessly transmits the data to cardiologists using radio frequency technology. Doctors and clinicians can access and review the information on a secure website, and they receive alerts if a worsening condition is detected.
With this insight, physicians can potentially manage the condition much more effectively and reduce hospital admissions by 37 percent, according to data from a clinical trial.
Finding the Perfect Fit
St. Jude Medical was a natural fit to acquire CardioMEMS and its technology. The international medical device manufacturer focuses on providing innovative solutions that reduce the economic impact of costly diseases while improving patient outcomes. The Fortune 500 company is rolling out the CardioMEMS Champion device this year in North America.
St. Jude Medical, which distributes its products in more than 100 countries and generates $5.5 billion in annual revenue, acquired 19 percent of CardioMEMS in 2010 for $60 million. After the heart sensor device won FDA approval in May, the company exercised its option to purchase the remainder of the startup for $375 million, for a total of $435 million. CardioMEMS will remain a separate entity and continue to operate out of offices in northwest Atlanta with its 98 employees.
The technology has been lucrative for its inventors and expected to be financially successful for St. Jude Medical as well.
St. Jude Medical officials predict Champion sales will ring in at $15 million to $20 million in 2014 this year, with revenue picking up as the device is distributed worldwide. A Wells Fargo financial analyst recently predicted annual device sales at $259 million in 2018.
Other recent approvals will give heart patients who live in the European Union access to the device. In August 2014, St. Jude Medical also gained a significant nod from Medicare and Medicaid, which not only approved the device but also recognized that the new technology provides substantial clinical improvement over other available therapies.
"This favorable decision helps ensure that Medicare patients have access to this innovative technology as we introduce the CardioMEMS device as a new treatment paradigm to proactively manage heart failure, improve patient outcomes, and reduce hospital admissions," says Eric S. Fain, group president of St. Jude Medical.
Leading a Quiet Revolution
But that's just the beginning for MEMS in medicine, says Allen.
"At the highest level, it's going to be revolutionary," he says. "The future is where we have lots of sensors gathering information from in and on the body and those sensors ultimately guiding medical treatment."
For example, CardioMEMS developed a sensor that monitors changes in abdominal aortic aneurisms. Allen envisions such sensors becoming a ubiquitous part of health care, allowing doctors to provide more proactive and personalized treatments. The beginning of that trend is evident, he says. "Already there are wristbands that count the number of steps you walk, sensors that sense heart beats. These things are out there already."
Likewise, Allen can imagine MEMS technology that continually monitors blood pressure in hypertension patients, hydrocephalus pressure in the brain, and pressures in gastrointestinal areas.
Beginning a New Chapter
After 12 years of developing and testing the technology, Allen moved on from Georgia Tech in 2013 to direct the Singh Center for Nanotechnology at the University of Pennsylvania. He says he is proud to watch CardioMEMS and its technology transition to the next level.
He likens his long journey with CardioMEMS to earning a Ph.D., which he always tells his students is unlike obtaining any other degree. "Humans have to know something they didn't know before" for the candidate to be successful, he says.
The same was true for CardioMEMS. "We learned how these sensors work, how to communicate with them. We learned how the body uses them," he says. Better yet, "Now people will actually be able to benefit from all the technology we worked on all those years."